About Atlantek Maritime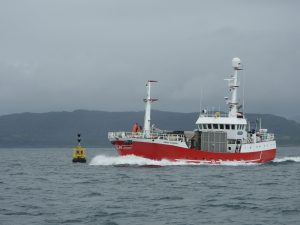 A new era in marine engineering
Inspired by the founders' vision of an end-to-end, multi-functional marine-design consultancy, Atlantek Maritime defines the next-generation approach to vessel design, build and life-cycle management.
Working as a unit, we have dismantled the boundaries of traditionally fragmented and sequential design processes.  Merging naval architecture, mechanical and electrical engineering and project management within one high-performance operation creates new opportunities.  The result is a single, integrated, fast-track solution.  Our customers harvest the benefits of streamlined communications, lower costs and reduced time to realising commercial returns.  
Our Ethos
The Directors of Atlantek Maritime manage all projects and client relationships personally.   Bringing the combined benefits of business acumen and deep technical experience gained internationally on complex projects, we delve deep into your specific requirements and apply our expertise to deliver innovative solutions. Informed creativity, technology and strong communication with our customers are at the heart of everything we do. 
Our Expertise
Our consultants bring their specialist functional expertise to help you with concept realisation, planning, design, implementation and preventive maintenance planning for your vessel.   Our expansive network of associate expert engineers and service providers, managed and coordinated by us, bring a cost-efficient means of accessing knowledge and experience that has been beyond the reach of conventional approaches to vessel design.  Working together with you step-by-step throughout the process, we take pride in ensuring successful outcomes.
Location               
Our strategic location in the North West of Ireland comes as a result of our strong sectoral interest in the fishing industry.
We have displaced the conventional model of the consultant's office as the focal point of a project, and modernised using customer-centricity as our core value.   In the new world of connected collaboration, we bring global experience to our customer, focussing on you and your needs at your place of business.  
The Director
Shaun Cavanagh is a Chartered Engineer and a corporate member of the Royal Institution of Naval Architects.  Shaun has worked internationally as a senior naval architect, and recently worked on a complex project in the design of a large-scale oil platform decommissioning vessel, the largest self-propelled vessel in the world.  Shaun has a strong heritage in the fishing industry, and readily applies his expertise in the most innovative technologies to achieve world class results for vessels in any category.